Virtually everyone watching last Saturday's contest, dubbed "Supremacy" by Golden Boy Promotions, expected a landslide win for Gennady Gannadyevich Golovkin (37-0-1, 33 KOs). GGG looked dominant to the casual and hardcore boxing fans alike. Even the most cursory Google search pulls up images that tell the story of a one-sided match but once you actually examine what went down, it couldn't be more complicated as the end result was a confusing draw.
In what has to be the most stunning and controversial scorecard in the history of the sport, the judges couldn't reach a clear consensus on who won. Nevada fight judge Adalaide Byrd has temporarily stepped down and may not call another fight for the remainder of 2017, according to the LA Times, after she scored the fight in favor of Canelo, 118-110. Judge Don Trella scored the fight as a tie at 114, equally surprising to many though he hasn't received as much backlash which may be a separate discussion on sexism in a male-dominated industry. Judge Dave Moretti's scorecard has been widely viewed as the most accurate among the three, signaling a very close fight with GGG edging out the win.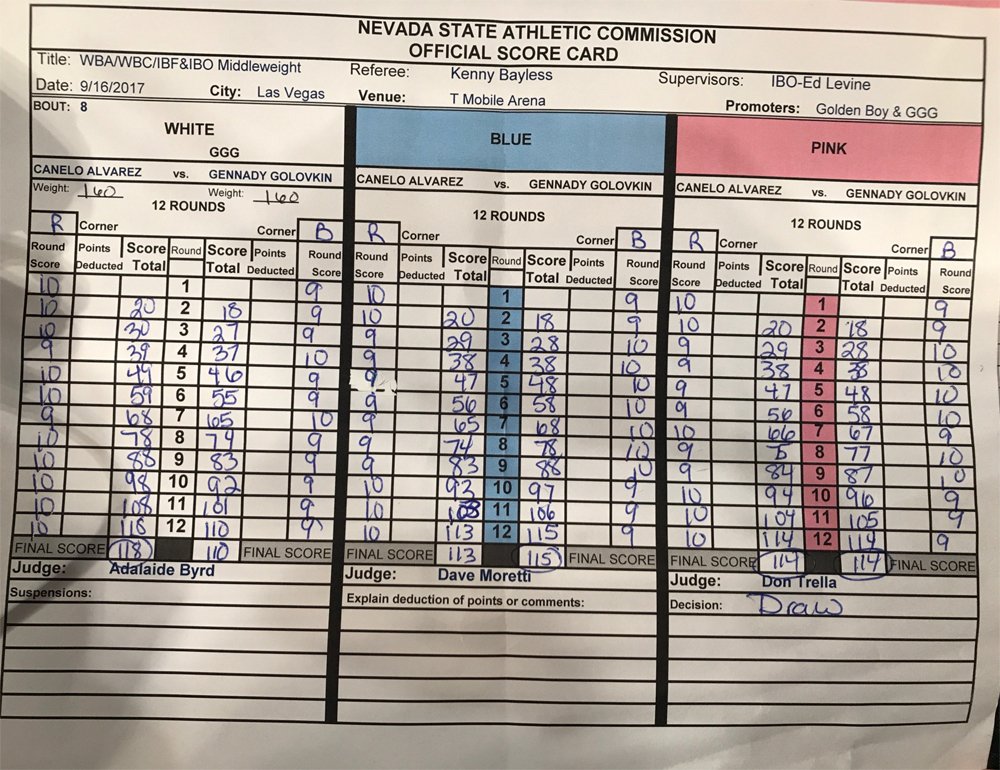 The Compubox stats show that there may be more going on here which could bring closure to fans seeking it. The unified WBA, WBC, IBF, and IBO middleweight champion bested his opponent Saul "Canelo" Alvarez (49-1-2, 34 KOs) on total punches landed 218-169 and in 10 out of 12 rounds (Canelo won the total punch count in round 2 and the boxers were tied in round 12). However, Canelo was slightly more accurate with the distribution of his total punches, beating GGG on that front by a margin of 2.5%.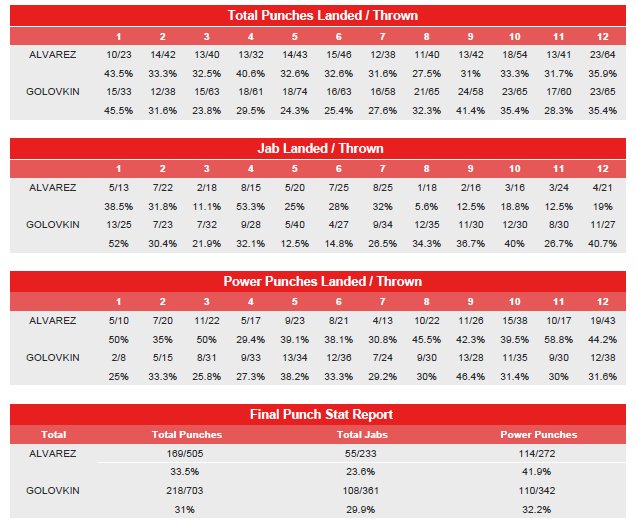 Analyzing the fight through a critical lens is what the judges should do in their role, not just registering reactions based off of what they see in the moment. Moretti seemed to favor the safe choice, as GGG got into a fantastic rhythm early on and had Canelo against the ropes for the majority of the fight.
Perhaps Byrd thought Canelo was more efficient and deserved the win. There are also certain intangibles that a judge can appreciate and, embattled as he was, Canelo hung in there with the champion well enough that he avoided the knockout GGG was clearly going for.
Canelo's grit and GGG's aggressiveness could have ultimately resulted in Trella's tied scorecard. Both men put forth a great effort and made a strong case for themselves in different ways.
Golden Boy Promotions has to be overjoyed with the prospect of a rematch which means more hype and more money for everyone involved, but there is no official word as of yet when/if it will take place. No matter how you rationalize the decision, many fans felt burned by the outcome of what was actually an intense and competitive boxing match. The sport absolutely needs more of the latter but it will come at the price of rehashed pro wrestling gimmicks, for better or worse.